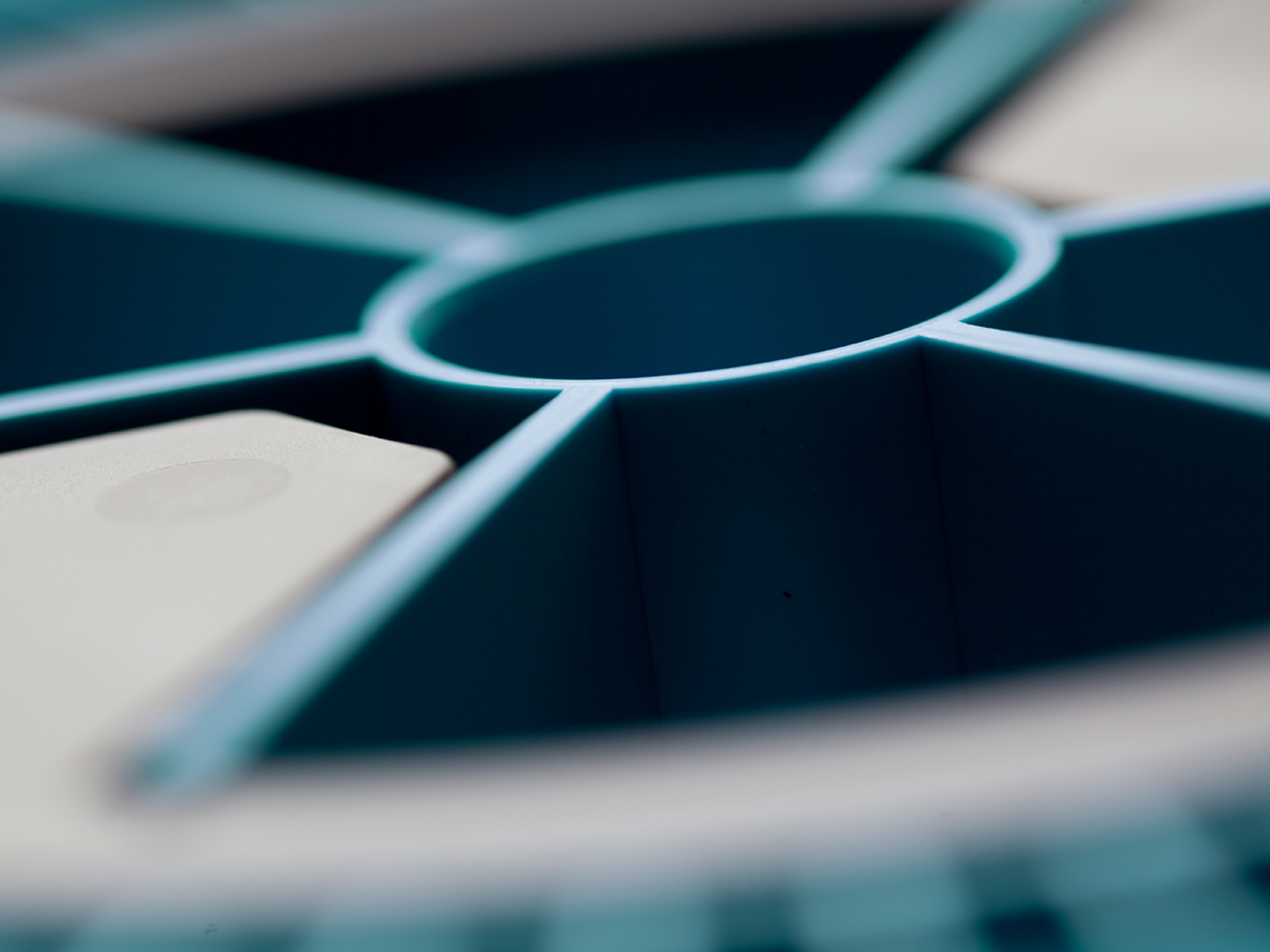 Triple-Clad Doped Fiber
Fibercore's triple-clad doped fibers are designed for fiber lasers and high power CATV and telecoms amplifiers. Their unique triple cladding structure is designed to encapsulate the octagonal mode mixing pump guide within a circular outer cladding, enabling lower splice losses and lower splice variability associated with fibers with octagonal outer regions. This triple cladding structure also gives an additional mode confinement structure to reduce the amount of pump light at the cladding-coating interface to aid coating reliability.
Fibercore's triple-clad erbium/ytterbium doped fibers (TC1500Y) are designed as single-mode, high-power CATV and telecommunications amplifier fibers. The TC1500Y(6/125)HD offers a smaller Mode Field Diameter (MFD) for higher efficiency levels at output signal power around 1W. The TC1500Y(11/125)HD is designed for output signal power at 5W and above.
The TC1060Y(10/125)0.08HD is a ytterbium doped fiber designed for use in pulsed and CW fiber lasers. The composition is optimized to avoid the effects of photodarkening to ensure long lifetime and high reliability.
Typical Applications:
High Power Erbium Doped Fiber Amplifiers (EDFAs)
Ytterbium/Erbium Doped Fiber Amplifier (YEDFA)
Fiber Lasers
Light Detection and Ranging (LIDAR)
Cable Television (CATV)
Comparison

|  | TC1060Y (10/125)0.08HD * | TC1500Y (6/125)HD | TC1500Y (11/125)HD |
| --- | --- | --- | --- |
| Laser Core | | | |
| Composition | Ytterbium | Erbium and Ytterbium | Erbium and Ytterbium |
| Operating Wavelength (nm) | 1060 | 1520–1570 | 1520–1570 |
| Numerical Aperture | 0.07–0.08 | 0.20–0.23 | 0.10–0.13 |
| Mode Field Diameter (μm) | - | 5.6–7.2 @1550nm | 9.6–12 @1550nm |
| Single-Mode Core Diameter (μm) | 10–12 | - | - |
| Cut-Off Wavelength (nm) | - | 1290–1510 | 1290–1510 |
| Peak Core Absorption (dB/m) | - | 75 ± 20 @1535nm | 75 ± 20 @1535nm |
| Pump Guide | | | |
| Composition | Pure silica with F-doped silica cladding | Pure silica with F-doped silica cladding | Pure silica with F-doped silica cladding |
| Mean Core Diameter (μm) | 105–115 | 105–115 | 105–115 |
| Absorption (dB/m) | 1.1–1.5 @915nm | 0.6–0.9 @915nm | 2.5–4.5 @915nm |
| Numerical Aperture of low index coating w.r.t. silica | 0.45 (Nominal) | 0.45 (Nominal) | 0.45 (Nominal) |
| General | | | |
| Proof Test Level (%) | 1 (100 kpsi) | 1 (100 kpsi) | 1 (100 kpsi) |
| Coating Type | Low index acrylate | Low index acrylate | Low index acrylate |
| Cladding Diameter (μm) | 125 ± 1 | 125 ± 1 | 125 ± 1 |
| Coating Diameter (μm) | 245 ± 15 | 245 ± 15 | 245 ± 15 |
| * Passive DC variant available | | | |
Specifications

Product Variants Explained

| | |
| --- | --- |
| TC1060Y(10/125)0.08HD | Triple-clad Yb doped fiber |
| TC1500Y(6/125)HD | Triple-clad ErYb doped fiber |
| TC1500Y(11/125)HD | Triple-clad ErYb doped fiber |

Product Specifications

| | |
| --- | --- |
| Operating Wavelength (nm) | 1060 |
| Composition | Ytterbium |
| Numerical Aperture | 0.07 - 0.08 |
| Mode Field Diameter (μm) | - |
| Single-Mode Core Diameter (μm) | 10 - 12 |
| Cut-Off Wavelength (nm) | - |
| Peak Core Absorption (dB/m) | - |
| Composition | Pure silica with F-doped silica cladding |
| Mean Core Diameter (μm) | 105 - 115 |
| Absorption (dB/m) | 1.1 - 1.5 @915nm |
| Numerical Aperture of Low Index Coating W.R.T. Silica | 0.45 (Nominal) |
| Proof Test (%) | 1 (100 kpsi) |
| Coating Type | Low index acrylate |
| Cladding Diameter (μm) | 125 ± 1 |
| Coating Diameter (μm) | 245 ± 15 |
Resources

Technical Bulletins